Unlock the hidden value in corporate assets
About
Veyron was established in 2019 and operates as a private investment firm. Veyron conducts its business in the Americas and Europe.
Primary Business
Veyron's primary business involves the acquisition of tangible and intangible assets from national and international corporations and not-for-profits.
Long-term Strategy
As a long-term holder of assets, Veyron maintains strong, collaborative relationships with its lessees and institutional partners.
Trends
Veyron partners with corporates and non-profits to address increasing debt costs by creating innovative liquidity solutions for their real estate holdings.
Investment-grade and other creditworthy companies are seeing their cost of debt increasing at an alarming rate
Veyron believes rising debt costs will increase sale leaseback and alternative transactions over the next several years
These transactions enable companies to reduce balance sheet liability by up to 45% vs. raising debt
Platform
Leveraging tangible and intangible assets as an alternative to debt with favorable balance sheet and income statement treatment.
Financial Products
Traditional
Acquisitions
Building Monetization
Growth Capital
Debt Reduction
Alternative
Acquisitions
Building Monetization
New Construction
Debt Reduction
Non-Real Estate Acquisitions
Intangible Asset Benefit LicenseSM (IABL)
learn more
Company Acquisition
Intangible Monetization
Debt Reduction
The Veyron Advantage
Veyron's unique suite of financial products offers many advantages to clients at all levels.

We address the need for capital while also balancing important organizational areas not met by traditional capital financing solutions.
Veyron actively acquires core and strategic assets in a dynamic investment portfolio that spans across all geographies and asset classes.
Investment Philosophy
We deploy bespoke acquisition strategies that align with occupier's financial and operational goals and objectives. We are backed by the world's largest and most respected insurance and financial institutions. Our proprietary methodology enables us to move with efficiency and expediency to onboard assets quickly into our portfolio.
Investment Highlights
Since 2019, Veyron has acquired 7.1 million square feet in assets using its innovative financial structures delivering significant tax and accounting benefits to leading corporations and not-for-profits.
Veyron anticipates expanding its portfolio of tangible and intangible assets in 2023.
Veyron Portfolio
Since 2019, Veyron has acquired 7.1M sqft of single tenant assets consisting of 31 buildings in the United States and Canada.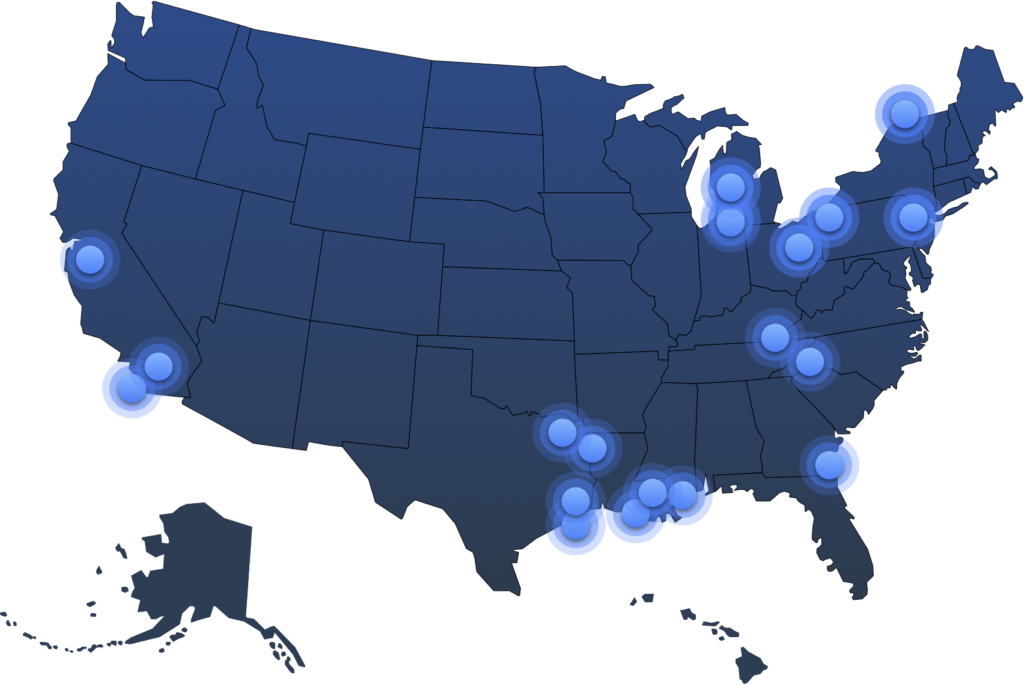 Veyron Annual Portfolio Growth
Q4 2019 Start through 2022
Veyron identifies tenants with significant investment in infrastructure and a long-term commitment to their assets.
Current Assets
715,000 SF
South Carolina
140,000 SF
Texas (4 buildings)
101,000 SF
Texas (2 buildings)
LEADERSHIP
Ronald S. Krolick
Senior Managing Member
Mr. Krolick has 42+ years of extensive experience in finance and law. He was formerly head of debt capital markets at Crédit Agricole in the Americas and Deputy CEO of Crédit Agricole Securities. He has overseen billions of dollars of financings, has extensive real estate experience from sale leasebacks to complex securitizations. His responsibilities also included the day-to-day management of the bank's US $25 Billion commercial paper conduit. Mr. Krolick spent 3 years at Lazard Freres focused on municipal finance before joining Credit Agricole. Prior to banking Mr. Krolick founded a law firm that specialized in real estate, tax and municipal finance. Before banking, he practiced law for 20 years and entered finance when he had the opportunity to merge his firm into a larger firm.
Brian O'Donoghue
Senior Managing Member
Mr. O'Donoghue has 32+ years of experience in business, law, finance, and management. Recently, Mr. O'Donoghue served on the Board of Directors of a regulated financial institution, overseeing its restructuring, legal & regulatory issues, and ultimately, its merger with a larger institution. He was also Managing Member of Arklow Capital, a private investment fund that invested in a portfolio of long and short, debt and equity positions. Like Mr. Krolick, Mr. O'Donoghue is a lawyer by training. He was General Counsel for 5 years at a publicly traded internet software company and practiced law at Milbank Tweed for 5 years early in his career, specializing in finance, securities, M&A, and public and private offerings.
Michael R. Ippolito
Senior Managing Member
Mr. Ippolito has 35+ years of experience in advising global corporations to optimize their assets. He was a partner at Newmark for 30 years as well as the founder and Chairman of Newmark's Global Corporate Services platform growing it to over $200M in annual revenue and 1000 professionals under his leadership. As an expert in capital structures and corporate strategy, he has advised global corporations on optimizing their real estate portfolios with the goal of improving their balance sheet and income statement. By blending consulting, capital structures, and real estate expertise, he partners directly with C-Suite to enable companies to make strategic decisions regarding their real estate portfolio. He has overseen over 1,400 transactions worth $15 Billion in total transaction value. Mr. Ippolito was most recently recognized as a Transformative Leader by CEO Forum and Forbes online in 2020 and 2021.
Patrick M. Duffy
Senior Managing Member
Mr. Duffy has 35+ years of experience in the commercial real estate industry, formerly serving as Vice Chairman for Newmark, a publicly traded global real estate corporation. During his career he has focused on providing advisory services, financing and long-term strategic planning. Mr. Duffy has completed millions of square feet in real estate transactions throughout United States and Canada. His experience includes negotiating complex real estate transactions for acquisition, lease, as well as build to suit transactions with many different types of ownership groups, corporations, and financial institutions. He is well versed in accounting standards and financial engineering. Patrick's extensive experience provides a unique perspective to analyzing assets, risk, and strategies to achieve value.
TEAM
Seth Weinstein
Senior Managing Director
Mr. Weinstein is a global leader in commercial real estate. As a former Vice Chairman for Newmark, Seth advised corporations regarding their real estate strategies for the last two decades. He has worked with companies to implement global processes in order to create asset acquisition and disposition strategies. Seth has structured transactions in most major markets throughout the US and global major markets.
Natalie D'Onofrio
Senior Managing Director
Ms. Donofrio has spent the last 17 years at prominent professional services organizations. The last 14 years focused on corporate real estate platform development, operational efficiencies, client solutions and client deliverables contributing to $1.64 billion in revenue generation. She worked with leadership to develop, design, and implement strategic solutions for clients across their global portfolios of assets. Prior to this, she worked for a major accounting firm specializing in client engagement services. She actively analyzes the market and ensures all solutions align with corporate drivers, purpose, and social impact strategy.
Nina Eshoo
Senior Managing Director
Ms. Eshoo has nearly three decades of experience in finance. After eighteen years with Credit Agricole where she was a senior banker, Ms. Eshoo founded Saltbox Partners to provide expertise in the specialized niche of project financing, strategic insight and an outside perspective to her clients, which include public companies, private equity firms, large and small privately held companies, and law firms.
Byron Jones
Senior Managing Director
Mr. Jones is a Senior Finance Leader with 30 years of experience in corporate finance at Fortune 500 companies. Industry and brand experience including airlines, automotive, travel, financial services (banking), higher education, and food & beverage. Career foundation in Big 4 Public Accounting. He has held notable senior executive positions as CFO, EVP and SVP of Finance at several organizations spanning his career. He has overseen critical corporate functions in annual operating & capital plans, monthly management reporting, cash flow analysis, and strategic transformations. Mr. Jones is also a board trustee for Tuskegee University.
Todd Graham
Senior Managing Director
Mr. Graham has nearly 30 years of experience as an investment banker and private equity and debt investor with a focus on infrastructure and commercial real estate. He was previously Managing Director at NatAlliance Securities leading the firm's alternative asset investment banking practice. Prior to that Mr. Graham served as Managing Director of Cantor Fitzgerald and co-led its infrastructure finance practice within the firm's Debt Capital Markets Group. Mr. Graham specializes in financing real estate and infrastructure assets with an expertise in debt capital markets, transaction structuring, structured finance, securitization, asset backed finance, and Public-Private Partnerships. During his career Mr. Graham has worked at Stifel Nicolaus, Morgan Keegan, and Merrill Lynch.
Laura S. Hornbach
Managing Director
Ms. Hornbach has broad-ranging commercial real estate experience with complex assets across the Americas and Western Europe. She has led the financial analytics work for investment and development of all asset types with a special focus on capital structure optimization. Previously, Ms. Hornbach was Managing Director for a Global Corporate real estate firm where she devised asset strategy solutions and project underwriting. Additionally, she was a Vice President at a multi-family investment firm where her responsibilities included management of a $1 Billion portfolio of institutional assets.
Max Hermacinski
Director
Mr. Hermacinski focuses on structured finance analysis and customer relationship management. Max has helped broaden awareness of the Veyron platform which saw nearly $1B in transactions during the first 2 years. While at Newmark, Max has spent 4 years working for a nationally recognized brokerage team. Max also provided transaction support to the Global Corporate Services business platform which generated $200m in annual revenue over 8 years.
Community Impact Investing
Our mission is to make a profound impact by funding and driving community development initiatives that provide lasting benefits for generations to come. The Veyron Financial Platform facilitates community impact investment through the unique structure of the RBL, ROL, and IABL products designed to provide maximum economic efficiency and thoughtful community benefit investment.
Mission-Based Investing
Selective programs that contribute to mission and guiding principles for reinvestment back into the community. Seamless integration with your existing organizational goals across Environmental, Social, Governance (ESG), Community Health Needs Assessments (CHNAs), and Community Health Improvement Plans (CHIPs).
Inclusive Contribution Structure
Veyron utilizes analytical tools and a client-collaborative process to identify and select areas for concentration. Transactions are structured with a built-in mechanism for charitable contributions allowing for rapid deployment of funds.
Impact Investment Pillars
Using assets as an agent for social change, we support six investment pillars: building communities, education, housing and facilities, improving physical and mental health, as well as income and financial inclusion and equity for all.
Veyron
Headquarters
437 Madison Avenue
34th Floor
New York, NY 10022

info@veyron.com

Offices
New York City | Dallas |
Los Angeles | Miami